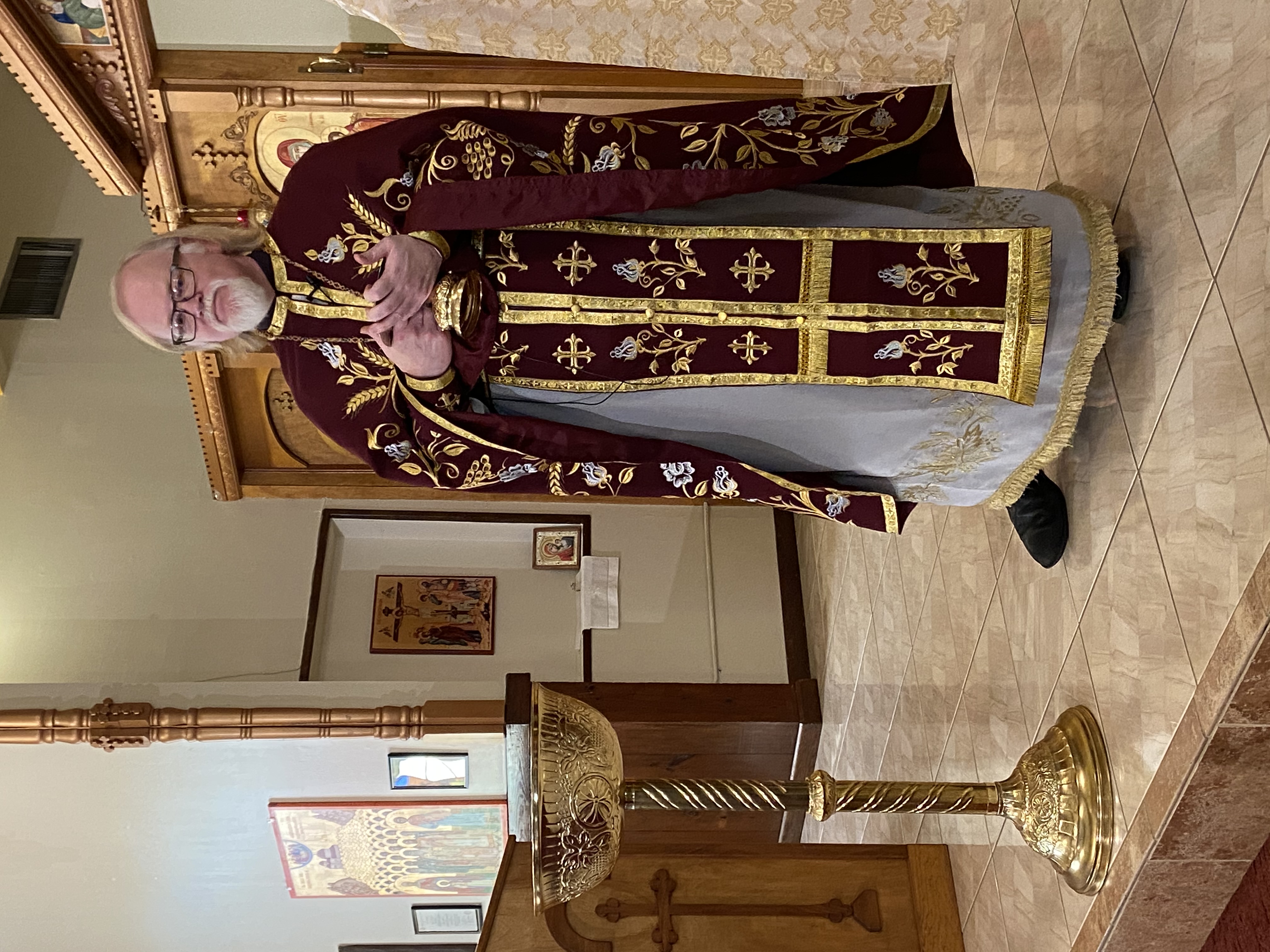 My name is Archpriest Paisius R. McGrath and I'm in the Ukrainian Orthodox Church of the USA. I was assigned as pastor of Holy Trinity, Biloxi effective 9/1/2020.

I am a celibate priest (non-monastic), in my mid-50's. I was born in Charlottesville, VA and grew up in the Beachy Amish Mennonite Church in Minerva, Ohio. My undergraduate degree is in Biblical Studies from Eastern Mennonite University with a Biblical Studies major and I have a Master of Divinity from St. Sophia's Ukrainian Orthodox Seminary in New Jersey (degree granted by Holy Cross Greek Orthodox Seminary in Brookline, MA).

In the 1990's I began a spiritual journey of studying the Early Church and the Church Fathers and through this came to learn about the Holy Orthodox Church. After college I taught High School History in Ohio and then in Virginia and lived for a number of years in Charlottesville, Virginia. After ten years of studying Holy Orthodoxy, I became a Catechumen at Transfiguration Greek Orthodox Church in Charlottesville, VA in January of 1999 and was baptized there on August 26, 1999. When the priest who instructed me in Holy Orthodoxy, Father Jon Emmanuelson, was transferred elsewhere I transferred to St, Nicholas Ukrainian Orthodox Mission in the same city in 2001. Later in 2001 I moved to South Bound Brook, NJ and began studies at Saint Sophia's Ukrainian Orthodox Seminary from where I graduated in 2004. After graduation I moved back to St. Nicholas in Charlottesville and was ordained to the Holy Diaconate there by Archbishop(now Metropolitan) Antony on Lazarus Saturday in 2005. In December of 2005, I was assigned to move to Indiana, PA to assist Father George Hnatko in serving two local Ukrainian Orthodox parishes which I did until October of 2006. On October 28, 2006 I was ordained to the Holy Priesthood by Metropolitan Constantine(of blessed memory) and assigned as pastor of Saints Peter and Paul UOC in Lyndora, PA where I served until the end of February, 2020. While pastor at Saints Peter and Paul for almost 14 years, I also served in addition as part-time pastor at Holy Virgin UOC in Arnold, PA (4 years); Spiritual Father of All Saints Camp in Emlenton, PA(12 years) and pastor of the summer St. Thomas Chapel there (10 years); and served as on call priest serving when needed at Orthodox Monastery of the Transfiguration(OCA- Romanian Episcopate) in Ellwood City, PA (9 years). In January, 2018 I was awarded the gold cross and elevated to Archpriest. In February of 2020, I was granted a requested 6 month sabbatical and came to McComb, MS at the end of February and served at Christ the Savior. My sabbatical purpose was to work on writing projects, work on the mission field, and to pray for God's guidance for future ministry in His Kingdom.